Our 2021 Best of Houzz Winner for Design
Explore our award-winning basement renovation now.
Each year Houzz, the home design website, announces their Best of Houzz winners in the categories of Design, Service, and Photography. The annual awards recognize home design and remodeling professionals who have earned praise in the Houzz community. But these awards are not just handed out to everyone. In fact, just 3% of the 2.5 million home design and remodeling professionals on Houzz receive a Best of Houzz award each year.
To say the least, we are THRILLED that Epic Group has received a Best of Houzz award multiple times over the past 5 years. In addition to receiving the Best of Houzz award for Design in 2021, we also received it in 2019 and 2017, and a Best of Houzz award for Service in 2017 and 2016.
So let's check out this year's award-winning design … truly a basement renovation for all ages and stages of a growing family! The centerpiece of the project (and the actual award-winning photo) was certainly this amazing walk-in wine closet.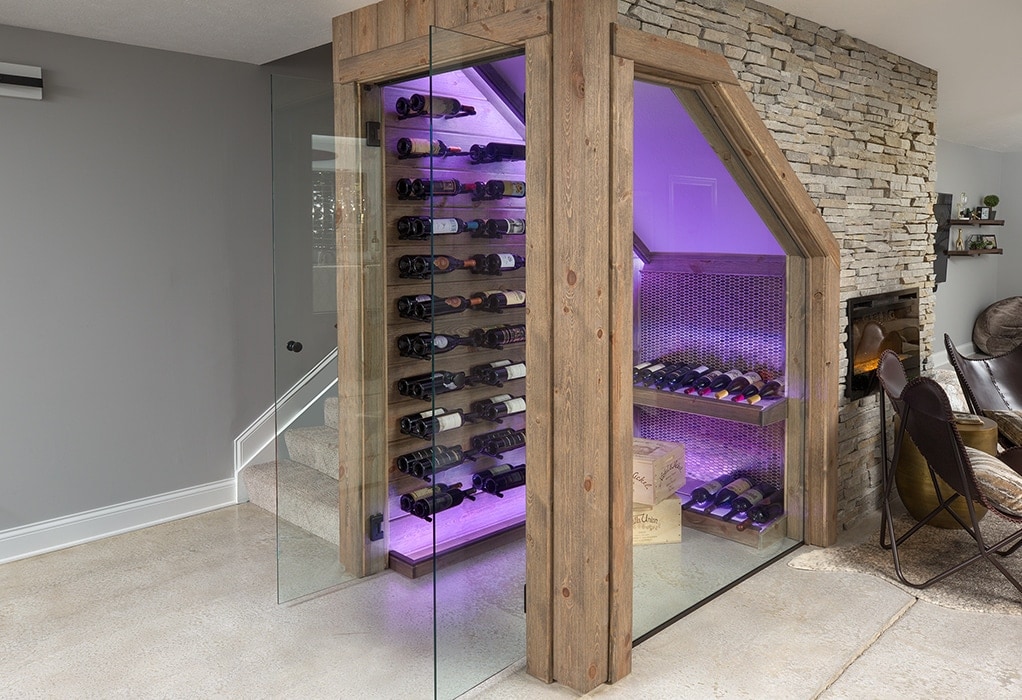 Before we move on to the rest of the features of this project, here are a few fun facts about home wine cellars (because who doesn't love wine AND fun facts?!)…
An active wine cellar incorporates a climate control system while a passive wine cellar (like this one) is not climate-controlled and is usually built underground to reduce temperature swings. More specifically, an aboveground wine cellar is often called a wine room, while a small wine cellar (fewer than 500 bottles) is referred to as a wine closet. And, finally, did you know that the part of the household responsible for the storage, care and service of wine in a great mediaeval house was termed the buttery (chardonnay, anyone?).
Now on to the rest of the features in this project that ensure that the basement design had space for everyone, including a play area, bar area, a cozy fireplace, a TV watching area, and a full bath for overnight guests.
Obviously, we are very proud of this project, but we have to give credit where credit is due. The homeowner had a great design eye and was very talented in conveying the vision for the space and helping to create an amazing space for the entire family. To see more of our work, check out our showcase.
---
If you are dreaming of a basement renovation or updating your home, we would love the opportunity to talk with you or invite you into our office in Historic Dublin, where our footprint began. Be sure to follow along on Instagram and Facebook for inspiration and ideas, or just to get to know us a little better.