As you look around your home, you may see a number of things that you would like to change or improve, but the thought of a whole home remodel may seem overwhelming, and out of reach financially. A phased remodel may just be the answer you are looking for.
When undertaking the renovation of your home in a series of smaller projects rather than one large whole-home remodel, there are a number of benefits – including everything from reducing the stress to allowing for design changes as you go. Let's take a look at some of the biggest benefits that we see with a phased renovation:
Create a holistic view of your home renovation project while maintaining the ability to make design changes over time as new ideas come to you or your needs for the space change.

Reduce your up-front budget without compromising on your long-term plan. By breaking your renovation into smaller projects, you are able to lower your initial costs and spread your investment over a longer period of time.

Allows you to continue living in your home during your phased remodel. There is less inconvenience, as your home will remain liveable while the smaller projects are underway.

Construction time will be shorter for each project and will also allow for a break between projects to allow you to regroup and recharge before you take on another project.

Coordinate timing that fits best with your family's needs or schedule. If you have a baby on the way or your in-laws are moving in, you can determine when each phase should take place and in what order.
No need to just take it from us, though. The Bailey Family from Dublin is two phases into their home remodeling project for their ranch home in Waterford Village in Historic Dublin. They had grand plans for their home, but the overall project was more than they wanted to spend at one time.
Working with us at Epic Group and our architect, they were able to create a master plan for the phased home renovation and determine what made the most sense, where to start and stop each part of the project, and the order in which the projects should be completed.
Phase 1: The home had a standard layout with a formal living room in the front of the home with a wall dividing it from the rest of the living space. They wanted to open up the kitchen to the dining room and formal living room for one large open floor plan.
Phase 2: Reconfigured and closed off one of the entrances to the bedroom hallway, and added a guest bathroom with easy access to their pool.
What's to Come?
The original plan for Phase 3 was to renovate and reconfigure the back hallway for a larger master suite. However, they have come to realize that it is more important to renovate the basement bath for their kids when they are in town than it is to tackle their master bedroom. So this will be the new Phase 3, and the master bedroom renovation will become Phase 4. Remember we said that flexibility is a huge benefit of a phased renovation??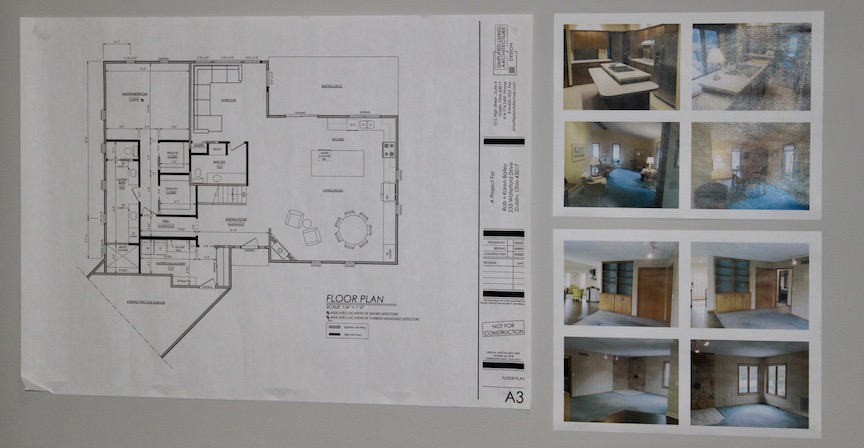 A Conversation with the Bailey Family
They have offered to share their experience with a phased renovation, and address some of the most common concerns that we hear from clients considering this approach:
Looking back, would you still have chosen a phased remodel for your home?
Absolutely, it allowed us to live in the space during phase 1 and to be sure of what we wanted for phase 2. A lot of thought and planning went into each phase, but we still made a few tweaks in the phase 1 space during the phase 2 renovation.
Is there anything you wished you would have done differently with your phased remodel?
We know with each phase we are only increasing the value of our home and making it what we want, without overwhelming our finances. It has really allowed us to make each space exactly what we want.
Do you get tired of undergoing renovation projects that are spread out over time?
With each change, it is exciting and like living in a brand new space. It drives us to the next phase. We know what we need to do so we can start the next one.
Were you able to live in your home during all phases of your remodel?
We were. Walls of plastic with zippers to get in and out of spaces was a challenge, but really reduced the amount of dust through the rest of the house. It was much appreciated that the Epic team was conscientious of our needs and they were obsessed with ongoing cleaning every day!
What have the biggest benefits to your family from the phased remodel?
It allowed us to stay in our home. It does require patience because everyone wants everything now. But sometimes to really get what you want you have to take it when you can get it. We keep a copy of the blueprints on the wall so we can show our friends what's coming next.
Any unexpected challenges to this type of renovation?
In the past we lived in homes we had built, so we are familiar with the challenges that come with construction. We were ready to start phase 2 in March 2020 … but we all know what happened with that start date! But Epic worked with us, kept us informed and they still finished within the same timeframe we had discussed.
---
More from Epic Group