Susan's Top 5 Faves
We love what we do and we think it shows in the epic transformations that we help our clients to achieve. While we are proud of all of our custom homes, renovations, and additions, these are a few of my personal favorites! Check out my Top 5 Faves (+ one more bonus fave!) and let me know what inspires you.
Historic Dublin Renovation
Favorite Features:
That clawfoot tub – love the feet
Master bedroom accent wall wainscoting – just the right touch to dress up the space
Mudroom – tile and black built-ins – love the colors
Family room fireplace – stone like the exterior and big beefy mantel with corbels – totally fits the feel of the house
Carriage house – extra space for guests away from the kids and regular family space – perfect for MIL visits plus an extra place to hang out and watch football
First Floor Renovation
This project has remained a fan favorite for years…
Favorite Features:
Our first kitchen with double islands!
Dog wash in laundry/mudroom – good for kids too!
Incredible hall of pantry cabinets
Powder room – sink, light, mirror, and that gold tile
Dressing table in front of the window – beautiful!
Kitchen + Mudroom + Laundry Renovation
Favorite Features:
Black and gold tones on lighting, cabinet hardware and kitchen faucet
Beautiful custom hood – love the shelves above.
That curved backsplash over the stove – LOVE! The wallpaper peaking through really sets it off.
Glass door knob on pantry – love the little details.
Cabinet with doors that retract – TV and "storage for stuff" you want to keep out of site.
Kitchen Renovation
Favorite Features:
The bar sink area with floating shelves – perfect spot to get a glass of wine or fill up the coffee pot conveniently hidden in the pantry. There is a second pull-out trash can in this area too.
The pantry is a show stopper of it's own – if your shelves are too deep you can't see what you have – toaster and coffee pot in there.
Shallow cabinets at the front of the island – utilizing every square inch of storage.
Hood with ledge – perfect for seasonal décor
Wood-stained interior on glass cabinet doors – really showcases beautiful accessories and dishes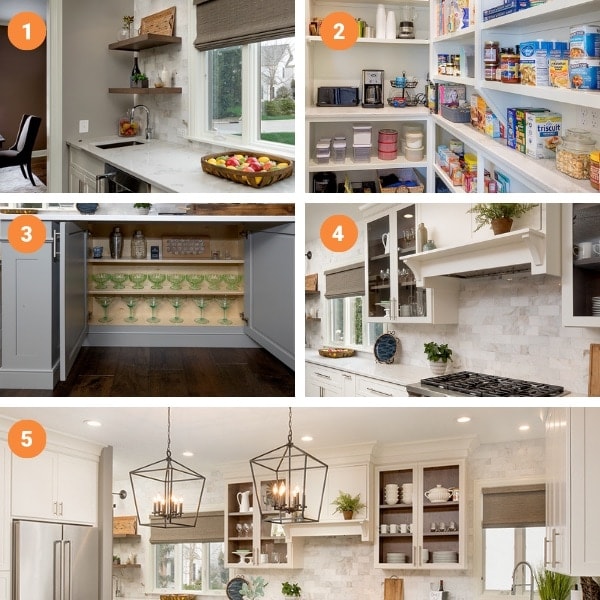 Whole House Renovation
Favorite Features:
Brick wall in foyer – such great texture and a great way to set off such a narrow space.
Cool trapdoor to cellar? Yes, please! Sturdy enough to walk over forever, but quite the conversation piece.
Wisk pendant lights over island – great scale – big enough for a statement – not so big they block the view.
"Hobbit" closet door in the bathroom – we utilized the space under the roof for a reach in closet for extra toiletries.
5 panel frosted glass doors – one upstairs hiding the stackable washer and dryer and one in the kitchen hiding the utility cabinet with the tankless water heater and misc. broom storage.
Bonus Fave: Outdoor Living Project
We were lucky enough to get to collaborate with Autumn Dawn, one of our favorite designers, on this project. Her eye for detail and COLOR are evident in the After photos…and we don't even have the new furniture yet!  But she managed to make it all feel new and amazing with some accessorizing until the new furniture arrives and it's already one of Susan's faves!
Favorite Features:
Scale of the addition – looks like it should have always been there!
The gas fireplace…AND the fire pit! I love having so many options for warmth…undercover and under the stars! And did I mention the heaters on the porch, too?
SO much seating..comfy chairs, a comfy sofa, and high-top bar stools plus a table for dining and seating around the fire pit!
The outdoor kitchen!
That ceiling tho'