It's no surprise that we get asked a lot, "where did you get that?" when people see photos of our finished homes and renovations. Our vendor partners and their products are extraordinary and add just the perfect little something to our designs.
If you are anything like us, you love to scroll through Instagram, Pinterest, and Houzz to see the latest home design trends and decor ideas. We are avid followers of many of our vendor partners on social media and enjoy seeing their design ideas and products that inspire us in our designs. So, let's take a look at a few of our favorite projects and where some of our favorite features came from.
Kitchen + Mudroom + Laundry Renovation
One of Susan's Top 5 Favorite Projects, this renovation was actually a collaboration with LCH Interiors, established by Principal Designer, Laura Hawk (
@lch_interiors). Laura referred the client to Epic for their renovation project, and if we may say so ourselves, the results are amazing! A few of our (many!) favorite features in this renovation include:
Painted cabinets are Medallion Cabinetry and the island is Amish-built cabinetry by NewHaven, both from The Cabinet Shop ( @thecabshop). The cabinetry details are really amazing, including retractable doors to help keep the clutter at bay.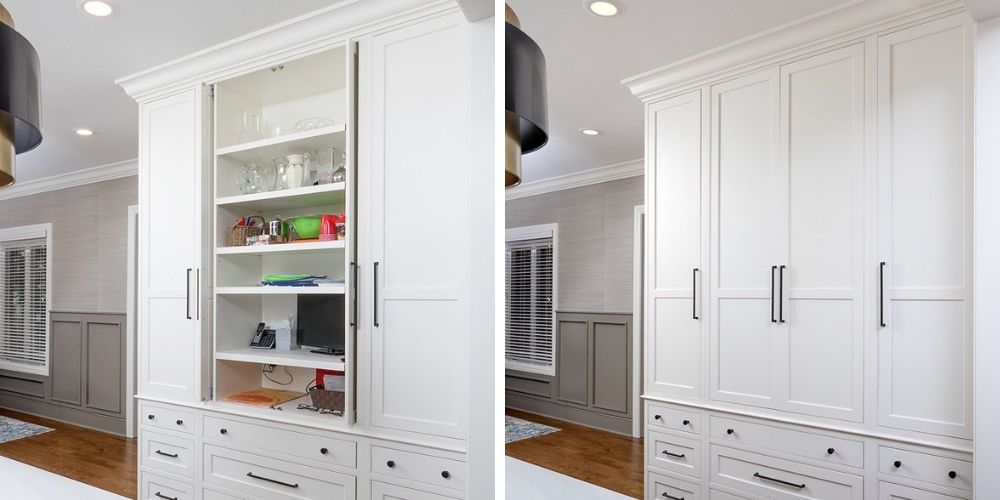 The appliances give the perfect finishing touches to this renovation and are from Jack's Appliances in Hilliard, Ohio. And check out that curved backsplash over the stove – LOVE! The grasscloth wallpaper peeking through really sets it off.
Fun + Funky Addition and Renovation
This project included an addition designed by architect Pete Foster of Pete Foster Residential Design (
@petefosterresidentialdesign) that expanded the existing bedroom and bathroom spaces as well as converted one of the bedrooms into an additional living space used as an additional office/lounge that opens to the family room.
We started this project in the thick of COVID with homeschooling in progress along with two parents working from home! Fortunately, the existing kitchen and living space were relatively uninterrupted during the majority of the construction. The end results are stunning…not just from the exterior, but the interior exudes the fun, funky nature of this amazing family that's not afraid of stylistic risks!
Panic Lighting Co. sum up their offerings the best, "Specializing in Commercial, Residential, and Really Weird Lighting." Don't believe us, check out this stunning dining room light! ( @paniclightingco)
A Phased Renovation
We connected with this client in 2019 and began our first project with them in 2020 that included a powder room, back hall, and laundry. Early in 2021, we again met (with masks on!) for a team meeting about the kitchen that included eliminating a closet in the hallway to free up space for a dry bar in the kitchen area and transforming their peninsula-style kitchen to a much more open floor plan with an island. We also updated the bookcases in the family room, gave the dining room a simple, but impactful update … and we are already planning the master bath renovation as our next project together!
The curved backsplash on the dry bar is made of the same amazing countertop material, LG Viatera Minuet from Konkus Marble & Granite ( @konkusmarblegranite).

Worly Plumbing supplied the fixtures throughout the home – the perfect accent pieces to the overall design!
Are you ready to get started on your epic transformation?